World Cup: Is Team USA finished?
DutchPride


Back in the game!


Posts: 5,475
Threads: 346
Joined: May 2013
Reputation: 445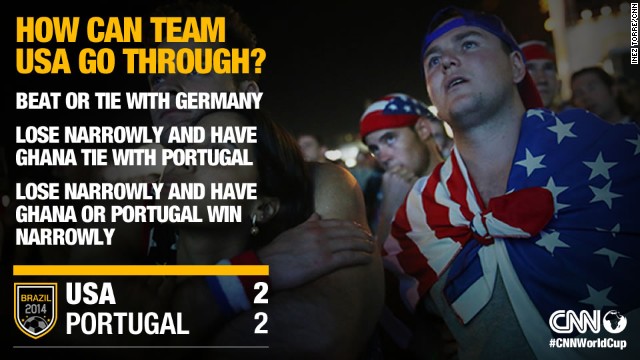 Code:
(CNN) -- For about 13 minutes, Team USA sat at the top of its World Cup soccer group, ahead of the mighty Germany and star-powered Portugal.
Then Portugal struck back. With seconds left to play, Cristiano Ronaldo set up a header for his teammate Silvestre Varela, leaving the final score tied at 2-2.
It was a harsh blow for the Americans, but it does not end their World Cup dreams -- it just makes them harder to achieve.
With every team in Brazil now having played two matches, most groups now have clear winners and losers.
But not Group G. In theory, any of the four teams in the group of Germany, the United States, Ghana and Portugal could still qualify for the knockout round.
READ MORE
---
Any questions related to CPA belong
here.
Before
posting, make sure you are in the correct section.
I am temporarily absent due to family circumstances.
Share This Thread :