Why is there stuff?
HawkEye


Grinding hard!


Posts: 9,203
Threads: 1,571
Joined: Mar 2013
Thanks Given: 3,382
Thanks Received: 43,053
Achievements: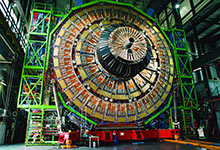 Quote:You really shouldn't be here. The "stuff" you're made of is matter, which has a counterpart called antimatter differing only in electrical charge. When they meet, both disappear in a flash of energy. Our best theories suggest that the big bang created equal amounts of the two, meaning all matter should have since encountered its antimatter counterpart, scuppering them both and leaving the universe awash with only energy. Clearly nature has a subtle bias for matter otherwise you wouldn't exist. Researchers are sifting data from experiments like the Large Hadron Collider trying to understand why, with supersymmetry and neutrinos the two leading contenders.
Share This Thread :
MrMe


Upcoming Elite


Posts: 252
Threads: 19
Joined: Sep 2013
Reputation: 28
Thanks Given: 501
Thanks Received: 616
That is why I do believe in God! Without a God there is no point of living and an absurdly low chance of nothing becoming something. I'm going through a bit of a crisis recently - whether I believe or not - and have been thinking about the sort of things you posted. I'd rather not think about this stuff, because I know I'm just a small something in this universe and don't have the capacity to solve any of my thoughts, so I better leave them unanswered or I might just go crazy :)
ℛᴏʏᴀʟ ɢs


United Kingdom


Posts: 847
Threads: 10
Joined: Jun 2013
Reputation: 145
Thanks Given: 706
Thanks Received: 309
Achievements:


Though as stated in other threads I don't believe in any god or religion, as a kid (under 10) I would always think to myself, if nothing existed and 'blank' didn't exist, then there would be no 'blank' in an infinite loop if you know what I mean, it's incomprehensible.
Gendai


Rising Elite


Posts: 50
Threads: 2
Joined: Aug 2013
Reputation: 0
Thanks Given: 78
Thanks Received: 3
This is just another one of life's many questions that seems to go unanswered despite thousands of years of recorded "development" and "discovery". I'd love to know why "stuff" exists, but there's too many possibilities and no 100% concrete answer :/