What makes us human?
HawkEye


Keep rolling, don't give up.


Posts: 9,533
Threads: 1,600
Joined: Mar 2013
Achievements: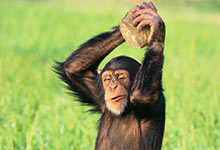 Quote:Just looking at your DNA won't tell you – the human genome is 99% identical to a chimpanzee's and, for that matter, 50% to a banana's. We do, however, have bigger brains than most animals – not the biggest, but packed with three times as many neurons as a gorilla (86bn to be exact). A lot of the things we once thought distinguishing about us – language, tool-use, recognising yourself in the mirror – are seen in other animals. Perhaps it's our culture – and its subsequent effect on our genes (and vice versa) – that makes the difference. Scientists think that cooking and our mastery of fire may have helped us gain big brains. But it's possible that our capacity for co-operation and skills trade is what really makes this
Discuss...
Share This Thread :

april4th


Banned, see signature.


Posts: 27
Threads: 5
Joined: Apr 2014
Reputation: 0
No, i dont believe that. Yes animal may evolute cause by the environment but i can guarantee you human are never evolute by animal.
april4th


Banned, see signature.


Posts: 27
Threads: 5
Joined: Apr 2014
Reputation: 0
Creep


Rising Elite


Posts: 51
Threads: 4
Joined: Apr 2014
Reputation: 6
The starve for power, and selfishness.
sweet


Cocaine & Caviar


Posts: 599
Threads: 29
Joined: Sep 2013
Reputation: 28
Achievements:


the mistakes we make
---
She said to me : "I don't care if I fall in love with a devil, as long as the devil will love me the way he loves hell."
MrHusky


Barking Elite


Posts: 221
Threads: 37
Joined: Oct 2013
Reputation: 39
Achievements:


Maybe our intelligence. But we will evolve too.
PureFiles Nenad


(PureFiles.Net Co-Founder)


Posts: 75
Threads: 3
Joined: Apr 2013
Reputation: 25
Achievements:


Humanity is the biggest threat.
caesar


You Need It, I Create It!


Posts: 681
Threads: 30
Joined: Jul 2013
Reputation: 7
Achievements:


---
[url=]

[High Quality]

[/url]
Gendai


Rising Elite


Posts: 50
Threads: 2
Joined: Aug 2013
Reputation: 0
The want to see, do, and experience. The ability to feel for others, and the environment that surrounds us.