Scientists: We're 'very close' to finding another Earth
HawkEye


Grinding hard!


Posts: 9,363
Threads: 1,596
Joined: Mar 2013
Thanks Given: 3,542
Thanks Received: 43,507
Achievements: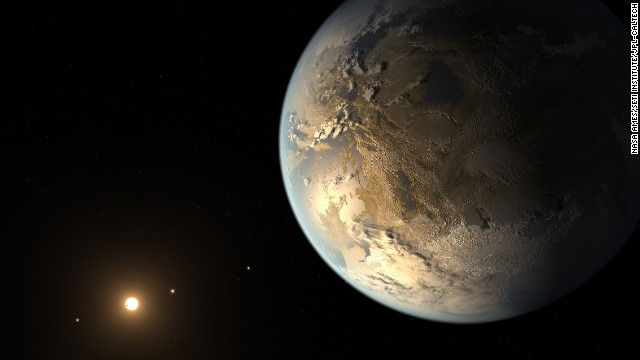 Quote:CNN) -- Scientists looking for signs of life in the universe -- as well as another planet like our own -- are a lot closer to their goal than people realize.

That was the consensus of a panel on the search for life in the universe held at NASA headquarters Monday in Washington. The discussion focused not only on the philosophical question of whether we're alone in the universe but also on the technological advances made in an effort to answer that question.

"We believe we're very, very close in terms of technology and science to actually finding the other Earth and our chance to find signs of life on another world," said Sara Seager, a MacArthur Fellow and professor of planetary science and physics at the Massachusetts Institute of Technology.

"Finding Earth's twin, that's kind of the holy grail," said John Grunsfeld, an astronaut who helped repair the Hubble Space Telescope in 2009 and is now an associate administrator at NASA.
Continue reading...
Share This Thread :

2014-07-15, 09:18 PM,
(This post was last modified: 2014-07-15, 09:18 PM by ℛᴏʏᴀʟ ɢs.)
ℛᴏʏᴀʟ ɢs


United Kingdom


Posts: 847
Threads: 10
Joined: Jun 2013
Reputation: 145
Thanks Given: 706
Thanks Received: 309
Achievements:


Aɪʀʙᴏʀɴᴇ ⭐️


Stack!N Those Dolla$!


Posts: 662
Threads: 33
Joined: Jun 2014
Reputation: 108
Thanks Given: 601
Thanks Received: 4,408
Achievements:


This gives me the feeling of a Alien Disaster.
---

DutchPride


Back in the game!


Posts: 5,537
Threads: 349
Joined: May 2013
Reputation: 445
Thanks Given: 626
Thanks Received: 4,693
I'm curious what's on that planet then.
---
Any questions related to CPA belong
here.
Before
posting, make sure you are in the correct section.
I am temporarily absent due to family circumstances.
leki486


action takers=money makers


Posts: 94
Threads: 1
Joined: Aug 2013
Reputation: 0
Thanks Given: 823
Thanks Received: 10
I know Russia is building full base in moon by 2020
2014-07-31, 01:09 AM,
(This post was last modified: 2014-07-31, 01:10 AM by ShakyDairis.)
ShakyDairis


Student - From Latvia


Posts: 387
Threads: 9
Joined: Jul 2014
Reputation: 51
Thanks Given: 490
Thanks Received: 1,831
Achievements:


There are many planets which looks similar to Earth, example Gliese 832 c
But those planets are many lights years away. Even if we would have a space ship which goes within 1 light year per hour, we couldn't live there, there is different climate, oxygen, (maybe animals, viruses and etc).