I Guess Humanity does still exist
HawkEye


Change is good, embrace it.


Posts: 8,981
Threads: 1,562
Joined: Mar 2013
Thanks Given: 3,251
Thanks Received: 42,312
Achievements: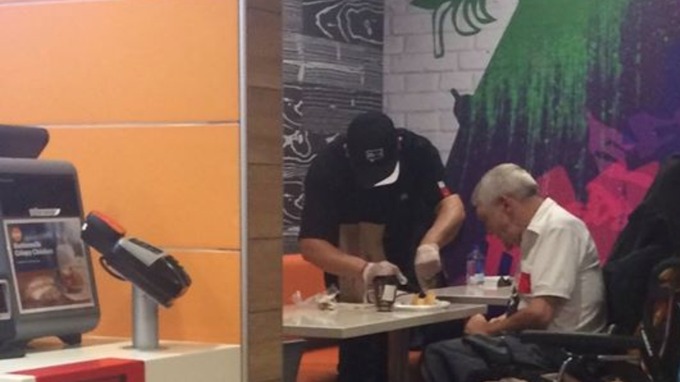 Quote:A McDonald's worker closed his till down during rush hour to help a disabled man eat his food.

The cashier, known only as Kenny, stopped serving and put his gloves on to help the man cut up his food.

Customer Destiny Carreno, who was in the Chicago fast food outlet at the time, later posted the act of kindness on Facebook.
Humanity does still exist:
McDonald's worker closes till to help disabled man eat
Good to know, right!
DutchPride


Back in the game!


Posts: 5,537
Threads: 349
Joined: May 2013
Reputation: 445
Thanks Given: 626
Thanks Received: 4,682
Look what the world have become, why would people refuse to help any person who is in need of help?
---
Any questions related to CPA belong
here.
Before
posting, make sure you are in the correct section.
I am temporarily absent due to family circumstances.
$chestofloot$


Its About That Time..


Posts: 297
Threads: 62
Joined: Oct 2013
Reputation: 30
Thanks Given: 332
Thanks Received: 435
Achievements:


Now, if we could get rid of the profiling that would be great too
---
Real-Time SEO Training - Learn how to rank your own sites - $29/month GET ACCESS NOW!
MoneyCashers


NETWORK DEVELOPER


Posts: 455
Threads: 19
Joined: Jul 2013
Reputation: 257
Thanks Given: 202
Thanks Received: 921
Achievements:


People do less of this for a simple reason... they are scared of what someone might think about them... and the fact is, i'm sure this guy got a lot of heat for doing this... but in the end he's being talked about on a marketing by people who will never meet him... Ain't life grand?

~MoneyCashers
KodyisKing


King


Posts: 56
Threads: 4
Joined: Sep 2015
Reputation: 54
Thanks Given: 5
Thanks Received: 51
azgold


Upcoming Elite


Posts: 340
Threads: 1
Joined: Jul 2014
Reputation: 35
Thanks Given: 458
Thanks Received: 53
Achievements:


I think it's terrific! I am lucky enough to know a few people like this and I've wondered what the world would be like if there were a lot more. The world would be a nicer place.