How do we beat bacteria?
HawkEye


Grinding hard!


Posts: 9,219
Threads: 1,571
Joined: Mar 2013
Thanks Given: 3,393
Thanks Received: 43,114
Achievements: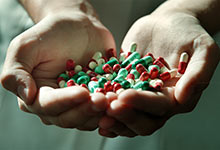 Quote:Antibiotics are one of the miracles of modern medicine. Sir Alexander Fleming's Nobel prize-winning discovery led to medicines that fought some of the deadliest diseases and made surgery, transplants and chemotherapy possible. Yet this legacy is in danger – in Europe around 25,000 people die each year of multidrug-resistant bacteria. Our drug pipeline has been sputtering for decades and we've been making the problem worse through overprescription and misuse of antibiotics – an estimated 80% of US antibiotics goes to boosting farm animal growth. Thankfully, the advent of DNA sequencing is helping us discover antibiotics we never knew bacteria could produce. Alongside innovative, if gross-sounding, methods such as transplanting "good" bacteria from fecal matter, and the search for new bacteria deep in the oceans, we may yet keep abreast in this arms race with organisms 3bn years our senior.
Discuss...
Share This Thread :
Superhero99


Super Addicted Elite


Posts: 2,048
Threads: 185
Joined: Oct 2013
Reputation: 484
Thanks Given: 1,734
Thanks Received: 48,500
Achievements:


Bacteria are becoming more antibiotic resistant since we use antibiotics too much for even simple cold we use them, so the bacterium get used to the antibiotics. Also sometimes mutation may occur causing the bacterium to become antibiotic resistant.

What we can do?
Go for other ways such as homeopathy, Ayurveda and other forms of medicine
Vampyre


New Elite


Posts: 31
Threads: 3
Joined: Jun 2014
Reputation: 6
Thanks Given: 97
Thanks Received: 10
I think this is just the answer to the other thread "How do we solve the population problem?". I think nature handles this problem itself like this.
The resistance against drugs (mostly antibiotics) has risen ALOT in the past few years. Therefore I think this is a very important problem to solve
and to take care of. Yet most docs (at least in Germany) are prescribing antibiotics for everything. Probably they would even for a very basic cold.
eval


New Elite


Posts: 17
Threads: 2
Joined: May 2014
Reputation: 6
Thanks Given: 155
Thanks Received: 62
Depending on where you are from, antibiotics are given out for just about anything. Also many of us consume animals that are also pumped full of them.

I've watched a few interesting documentaries about how we are trying to combat the resistance issue.

Basically it comes down to spoofing/plugging their receptors.
They all create enzymes and they all constantly check for the amount of that enzyme as a whole.
Once their receptors find that a certain amount has been reached, then they attack.
If their receptors are plugged they will be stuck reading a lower level that tells them to stay dormant/not attacking.

That's sort of what I caught from those few documentaries.
Correct me if I'm wrong!