Hi i need some Help
Cornholio


Upcoming Elite


Posts: 131
Threads: 8
Joined: Oct 2013
Reputation: 53
Hi guys can you please help me i need a code that can pass this massege after the retart of the pc.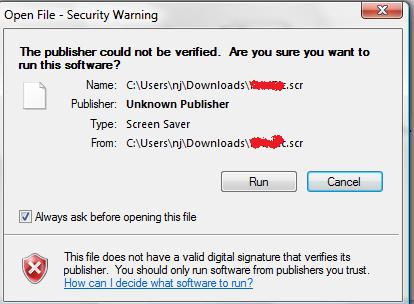 i tryed this but is not working :(
Code:
Environment.SetEnvironmentVariable("SEE_MASK_NOZONECHECKS", "1", EnvironmentVariableTarget.User)
Can you please tell me a way to disabel this using visual basic when you click a buton for ex to automaticly disabel this in windows or something like that.
Share This Thread :

Jaysamuel


Former Moderator


Posts: 1,708
Threads: 102
Joined: Oct 2013
Reputation: 150
Unchecking "Always ask before opening the file" should fix that.
»Wave«


Witch Indexer Seller


Posts: 1,101
Threads: 37
Joined: Jul 2013
Reputation: 119
Hmmm, if you want to disable the the javascript. Simple delete the script. Then go to task manager, start-up, disable that :)
Then, use ccleaner to clear all cache etc
Cornholio


Upcoming Elite


Posts: 131
Threads: 8
Joined: Oct 2013
Reputation: 53
im sorry guys but i think you dident understand me i whant a code that can disabel the always ask before opening a file or for this security warning becose if i manually do this i dident accomplished what im asking for.