Are we alone in the universe?
HawkEye


Change is good, embrace it.


Posts: 8,855
Threads: 1,557
Joined: Mar 2013
Thanks Given: 3,174
Thanks Received: 42,085
Achievements: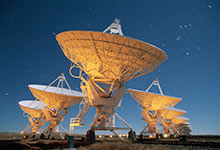 Quote:Perhaps not. Astronomers have been scouring the universe for places where water worlds might have given rise to life, from Europa and Mars in our solar system to planets many light years away. Radio telescopes have been eavesdropping on the heavens and in 1977 a signal bearing the potential hallmarks of an alien message was heard. Astronomers are now able to scan the atmospheres of alien worlds for oxygen and water. The next few decades will be an exciting time to be an alien hunter with up to 60bn potentially habitable planets in our Milky Way alone.
Thoughts?
MrHusky


Barking Elite


Posts: 221
Threads: 37
Joined: Oct 2013
Reputation: 39
Thanks Given: 1,013
Thanks Received: 2,940
Achievements:


I am sure, that we are not alone. What if we are and experiment of other races out there, to see how capable of living we are? It would be cool, if i could walk on the Enterprise in the near future:PP
themann


Active Elite


Posts: 572
Threads: 1
Joined: Nov 2013
Reputation: 6
Thanks Given: 925
Thanks Received: 67
Achievements:


i believe we are not alone in this universe...its to big that theres gotta be many things living in it besides us...
MrQQ


Upcoming Elite


Posts: 105
Threads: 1
Joined: Jul 2013
Reputation: 0
Thanks Given: 477
Thanks Received: 95
Achievements:


We are not alone, who goes deeper, will find informations. It is arrogant to think that we are the only living species in the univers
Gendai


Rising Elite


Posts: 50
Threads: 2
Joined: Aug 2013
Reputation: 0
Thanks Given: 73
Thanks Received: 3
I believe there's a vast world of undiscovered secrets out there, so yeah we're definitely not the only planet with living people on it.
chrisyarn71


New Elite


Posts: 45
Threads: 1
Joined: Mar 2014
Reputation: 0
Thanks Given: 126
Thanks Received: 4
I believe there are undiscovered secrets also
2014-05-04, 01:28 PM,
(This post was last modified: 2014-05-04, 01:29 PM by ★★★ BotMan ★★★.)
★★★ BotMan ★★★


Batman


Posts: 1,128
Threads: 39
Joined: Dec 2013
Reputation: 85
Thanks Given: 422
Thanks Received: 2,478
Achievements:


2014-05-04, 02:08 PM,
(This post was last modified: 2014-05-04, 02:08 PM by Atlantis.)
Atlantis


Time is my weakness


Posts: 432
Threads: 20
Joined: Aug 2013
Reputation: 84
Thanks Given: 504
Thanks Received: 2,976
The universe is so big, I think there must be another life form somewhere else.
But it's weird to think about it; I mean what should it look like. Will it walk on two legs like we do? Will it have flesh and blood, will it look like anything that we know?
---